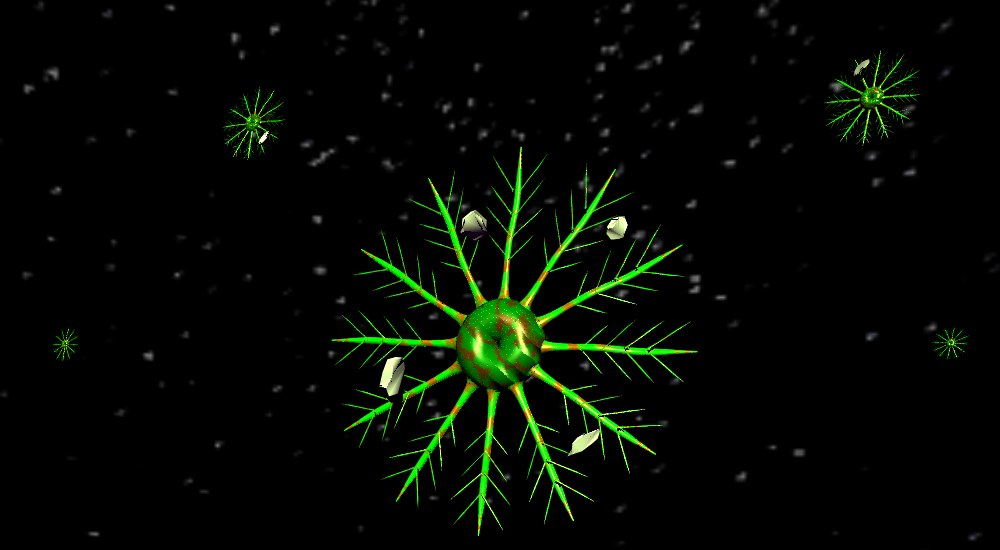 Vacuum Algae
Anatomical features

Metabolism: The metabolic rate of a vacuum algae is usually almost nil, but since a single cell can live as long as two hundred years some growth and reproduction do occur.

Coloration: Each algae is a mottled green-and-black, where the green photosynthesizes light from the G star while the black absorbs infrared from the brown dwarf primary.


Interior: Like all other ring life, the algae's body fluids are loaded with ethylene glycol, to control freezing and boiling.

Fronds: These entrap free air molecules, ice and dust, which are slowly transported into the cell for growth.
The fronds also function to regulate each cell's charge, by actively pumping hydrogen ions in and out through their sharp tips. Ionization control may help the plants navigate a little, but it is clearly useful in attracting free matter from a distance. Vacuum algae are usually more positively charged than their surroundings.
These plants tend to align their body planes perpendicular to the flow of ring matter, maximizing capture area.


Membrane: Every cell is covered with a thick lipid layer, which at low temperatures is stiffer than bees' wax.
This coating provides protection against evaporation, as well as a sticky trap for micrometeorite dust. It also maintains a small interior pressure (0.005 atmosphere), like a tiny space suit.
These organisms are one of the very few that exist both on-planet and spaceborne. It is suspected their ionization control facilitates their being swept into space by the Dwarf's magnetic field.
On-planet, they can be found as high up as the ionosphere, though only during large disturbances such as a solar flare or volcanic eruption. At sea level they grow to resemble more conventional blue-green algae.